Bathymatrix Inc. has released the biggest update for BUIO app in the last two years. Major overhauls include fine-tuned forecasting algorithms and redesigned access to key app features, such as adding spots and surf sessions. The new version also includes intuitive and appealing charts for swell and wind data.
For the development of the new version the team worked closely with both long-time and newer users to reimagine the machine learning-based surf forecasting app. After BUIO app downloads increased 37% in 2020, downloads have already quadrupled in the first quarter of 2021 compared to the first quarter of 2020. BUIO works worldwide and merges the functionality of a surf journal with current buoy and weather data into a machine learning-based personalized surf forecast.
Refined personalized surf forecasting
A new segment in the session log screen allows for a subjective judgment of the surf wave height. This new feature empowers the user to an even more personalized forecast. The interface works with an intuitive scale from "tiny" to "huge" and conquers a major criticism of general surf reports.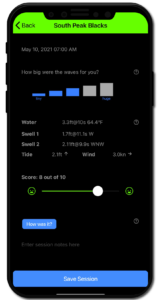 How big were the waves for you?
The new wind and swell charts present values at a glance. The user can go through an 8-day forecast of wind and swell development via scroll bar. Primary and secondary swells are displayed by different colored arrows on a compass dial, which change in size and direction as the swell develops. The new wind forecast is updated accordingly.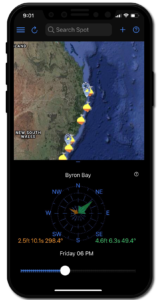 BUIO App Update swell and wind charts
BUIO App Version 3.0.0. extends reliable functionality into South Africa, the UK and the North Sea nations. While the US still has the most comprehensive coverage of live and future surf forecasting data, the worldwide performance is steadily improving.
The home screen now features a redesigned, easy-to-understand access to fundamental components of the app. The home + is now the starting point when adding a new session or a new spot. This update transforms the user-friendliness of the journaling of surf checks and surf sessions.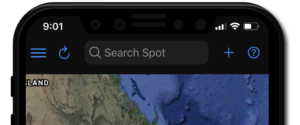 Home + in the top right corner
The BUIO app forecasting algorithms are constantly being updated and developed. On a regular basis and through different seasonal and yearly weather patterns the functions are adapted and tested. The updated algorithms in the newest app version offer even more accuracy for future prediction models.
The new version is updated automatically, if users have their settings on auto-update or can be updated manually for Android and iphone.
"We had a strong start into the year as surfers increasingly use BUIO App. I am excited about the revamped forecasting algorithms as we transform the way surfers look at a forecast. In 2020 we had twice as many sessions logged than in 2019 and when comparing the sessions logged in the first quarter of 2020 to this year's first quarter we already saw five times more", says Bathymetrix Inc. founder and BUIO App developer Thomas Hrabe.