San Diego Voyager interviewed BUIO App developer Thomas Hrabe. In the interview, the magazine asked questions about the background story of the app and what sets it apart from other forecasting services. 
Read how the idea of BUIO App wasn't born in a day, but grew in Thomas Hrabe's mind for many years traveling the world and surfing many different spots. On SDVoyager.com the surf app developer tells the story of how writing a classic surf journal led to a smart surf log. The computer scientist and AI specialist also reveals how the personalized surf forecasting app came to its name.
BUIO App and sdvoyager.com
The magazine's founders Sid and Mayank think that independent entrepreneurs, freelancers, and other risk-takers make our cities exciting to live in.  Aside from the interview with the personalized surf forecasting app founder, sdvoyager.com features many "rebel spirits" in the US.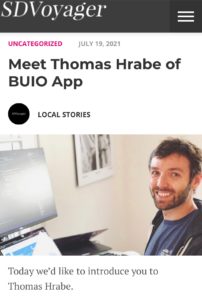 ---
Read the full article here